You May Want To Take Up Rowing—Here's Why
Posted on October 16, 2020 by wlda
When Theresa Domitrovic, 55, was invited by a friend to try a rowing class, she wasn't too excited. In fact, she remembers trying to get out of going and opting for another fitness plan. But she went and to her surprise, she really enjoyed the class after experiencing the benefits of rowing. So much so that she told her husband that he needed to give it a try. Domitrovic says, "Normally, my husband is slow to commit to things. But after our first rowing class was over, he said, 'We have to join this place!' We both liked the workout so much."
Why You Should Try Rowing
Indoor rowing as a mode of fitness has been gaining in popularity in recent years. Michelle Parolini, Master Coach for Row House, explains, "Indoor rowing engages 85% of the muscles in your body. It's an efficient cardio workout, it builds strength, burns calories, and improves posture. Rowing benefits beginners as well as accomplished athletes."
It might surprise people that the rowing stroke is primarily about using leg muscles and not arms. Parolini explains, "Many people mistakenly believe that rowing is about 'pulling' from the arms, but it's really about 'pushing' from the legs. Proper rowing is 60% legs, 30% core, and only 10% arms."
Because rowing engages both the leg's big muscles and the core, it translates to an overall higher calorie burn than the same amount of time spent cycling. The fluid strokes make it an intense cardio workout. Domitrovic says, "Even though I was an avid spinner, I was surprised how low my endurance was when I began rowing." In addition to cardio, Parolini says, "Rowing strengths and protects the low back, opens the hips and stretches the entire body, while also building muscle."
The Health Benefits Of Rowing
Rowing is an excellent cardio exercise that works to strengthen the cardiovascular system. This helps us transport nutrients and oxygen throughout the body.
Because rowing is a more intense workout, our hearts work harder to transport blood to the body. This may be beneficial to those who have or are at risk of heart problems, as it strengthens the heart.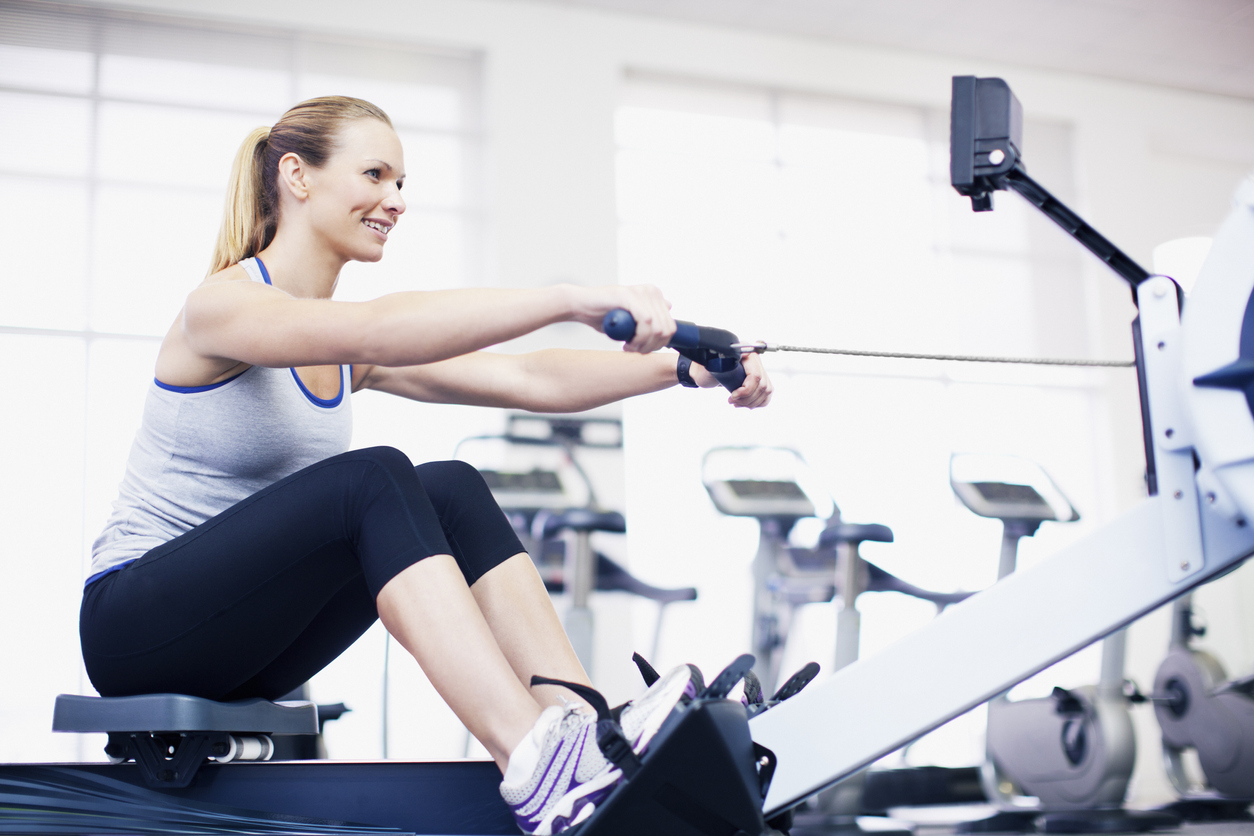 I Have An Injury—Can I Still Row?
People who have joint issues such as arthritis may find rowing a better workout than spinning or running. Parolini explains, "In rowing, you are sitting, so the workout is intense, but it's not weight-bearing, which makes it easily sustainable." Domitrovic and her husband have had knee issues in the past.
Domitrovic says, "I feel sore after rowing but in a good way. My knees don't hurt the way they did after a spin class. After two years of rowing, I am much more muscular and in better cardio shape, all without the aches in my knees, I used to get when I was spinning regularly."
The rower tends to be one of the most overlooked pieces of equipment in most full-service gyms. This may be because people either don't understand the benefits of rowing or because clients aren't always trained on how to use the rower properly. It's important to use fluid strokes, with the emphasis on the legs doing the work and not the arms. Domitrovic says. "It's a pretty easy learning curve, but there are little things you need to be paying attention to. Even after two years of rowing, we are continuing to learn new things and improving our form."
Is Rowing A Supplemental Workout?
Indoor rowing can be a full-body workout on its own or part of circuit-training type classes. Domitrovic and her husband choose to mix it up. She says, "We like varying the workouts to keep it interesting and challenging. Our rowing studio has 6 or 7 different varieties of classes. Some days we will do 45-minutes of all rowing. On other days, we will do a Pilates and rowing mix."
While there are rowing studios and classes, there are plenty of rowing machines available for home-usage. Domitrovic says, "Rowers range in price, but you can find a good one for $1000 or less. Look for one that is sturdy with an easily adjustable seat and foot stretcher. If you have space concerns, look for a model that can fold up for easy storage."
One of the best parts about rowing is that it meets the people where they are in terms of fitness level. Parolini explains, "I have students who have never worked out or who have lower back issues or other problems that make working out painful. Rowing is good for anyone at any level." Domitrovic likes that there is a mix of people of different abilities at her studio. She says, "Rowing draws a unique group of people. Some are very athletic while others are overweight or have underlying medical issues. But we can all take the same class together at our own pace and motivate one another."
And if you're looking for another daily workout routine that combines cardio and strength training, 80 Day Obsession seems to be a top contender.
The post You May Want To Take Up Rowing—Here's Why appeared first on Prime Women | An Online Magazine.
Back to "Blog"