Winter Workout: Adapting Your Exercise Routine for Cold Weather
Posted on November 29, 2017 by wlda
If you are lucky enough to have an established exercise routine, don't let the cold weather interfere. There are lots of ways you can make adjustments that will allow you to stay fit, even when it's freezing. For those of you who haven't developed a routine, we invite you to join us in this winter landscape of new opportunities that will keep you from the hibernation blues. We asked Pia Johns, a trainer from the boutique retirement community, Duncaster, for her expert advice on a winter workout routine.
Reasons to Avoid Hibernating
A body in motion stays in motion, so the less you move, the less you'll be able to move!
Without that exercise, you're more likely to gain weight. That gets worse as we get older with the changes to our metabolism. Pia points out, "As we age, it's harder to lose weight. It's better to maintain than to gain."
You need to be around people. Interaction and activity is not only good for the body, but for your brain. Join a class, go to a gym or call a friend and go for a walk together. Socializing is a great way to head off the seasonal blues.
Setting a Goal
Pia recommends people get at least 150 minutes of moderate activity every week. That may sound like a lot, but it's really only 22 minutes a day. Mix it up by focusing on different areas like balance, flexibility, core strength, cardio and resistance training. Again, taking a class can be a good way to make yourself accountable.
6 Tips for Creating a Winter Workout Routine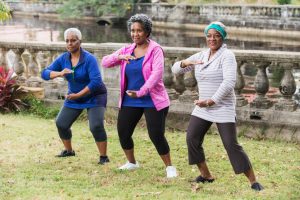 1. Try something new. Change is also good for your cognitive function. Think about really stepping out of your comfort zone with Tai Chi, Yoga, Pilates, Zumba or a dance class. Use Jane Fonda as inspiration. Her routine now includes hour long hikes almost every day and resistance training four days a week.
2. If you usually walk outdoors, but can't stand the chill, move it inside. Visit a museum or go cruising through the local mall. Both destinations offer multiple benefits! You might learn something – or find that jacket you've been "eye-balling" on sale.
3. Dress for it. If you're going to brave the great outdoors, go with the right clothing. Wear layers of breathable clothing so you can adjust as you warm up. Pia advises, "In conditions that might be slippery, pick up a pair of NANOspikes or Yaktrax." Again, if you are looking for something new and are lucky enough to have snow, try snowshoeing or cross country skiing.
4. If you are looking for something easy on the joints, how about a dip? Lots of area health clubs and even senior centers offer indoor water classes and open swim times.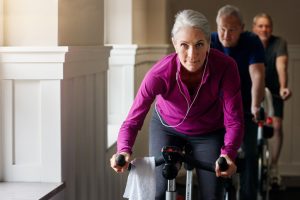 5. Pedal away the pounds. Go for a bike ride indoors with a bike trainer. You can find them in a variety of prices so you can see how you like it before you really invest. Or, go with the full system, like a Peloton or NordicTrack. Of course, every gym has a spin class these days, too.
6. Make your home your work out. Try some calf raises while you brush your teeth. Get in and out of a chair without using your arms to push yourself up. Get out your laptop and do some workouts with guidance from a pro via YouTube. Our own Debra Atkinson's Flipping Fifty is a great place to start and she knows what works and what doesn't for those of us of a certain age.
Pia points out, "Exercise is a lifestyle. It's just what you have to do for your body to feel good. If you think of it that way, you'll want to come up with year-round activities."
There you have it. What does your winter workout look like?
Also, before starting a new exercise routine, make sure you check with your doctor!
The post Winter Workout: Adapting Your Exercise Routine for Cold Weather appeared first on Prime Women | An Online Magazine.
Back to Blog