What To Look For (And Avoid) In Healthy Meal Replacement Bars
Posted on November 04, 2020 by wlda
Everywhere you turn there's a new meal replacement bar lining the shelves in the check-out line. Some have nuts and are drizzled in chocolate, others look like a bar of oatmeal. Then there are some that even resemble candy bars. We all know that we have to eat smarter to feel better. But, sometimes a little extra guidance is necessary, especially when product packaging aims to make all "health foods" look, well, healthy!
Regardless of appearance, not all meal replacement bars are the same. Many people turn to meal replacement bars because they are:
Quick
Compact – perfect for a purse, backpack, or briefcase
Filling (if you know what to look for!)
Understanding how to choose a meal replacement bar before you head to the store can help you make the best choice.
How To Select The Best Meal Replacement Bar For You
Why are you eating it?
Is the meal replacement bar an actual replacement for a meal, or a supplement? Some bars are higher in protein, while others may just have extra antioxidants or special ingredients to boost your current diet. If it's a true meal replacement, look for something that offers at least 300 calories and 10 grams of protein. This gives you the calories, carbohydrates, and protein to keep your energy and blood sugar up.
ALWAYS Look At The Ingredients
Can you pronounce the ingredients on the label? If not, you may want to reconsider. Many of these meal replacement bars will contain extra fat, sugar, and other preservatives and chemicals to add flavor. Also, look at the sugar content. If you're replacing a meal with a bar, it shouldn't have any more than 4 grams of sugars and 4 grams of saturated fat. If it's just a snack, pick something with no more than 2 grams of sugar or 2 grams of saturated fat.
Are Meal Replacement Bars Bad?
No, not necessarily. You just need to know how to choose a healthy option. But, keep in mind that meal replacement bars aren't meant to be eaten every day. Maybe you are on the go and need a quick, but filling meal. Perhaps you want an option to prevent you from indulging in a sweet snack. Maybe you need extra energy before a workout. Whatever the reason, we will look at what to look for, and what to avoid in a meal replacement bar. Just remember that moderation is key.
Where's the Protein?
One of the first things that you should look at is the protein content. If the purpose is to replace a specific meal, we need to be sure that we are consuming enough protein. Let's look at average proteins amounts in meals:
Three eggs equal approximately 18 grams

One chicken breast has about 30-40 grams

Salmon contains around 30-35 grams
So, for a meal replacement bar to be effective, it should have 15-25 grams of protein. if it has less than 15 grams, you will feel hungry too soon and that always leads to an energy crash.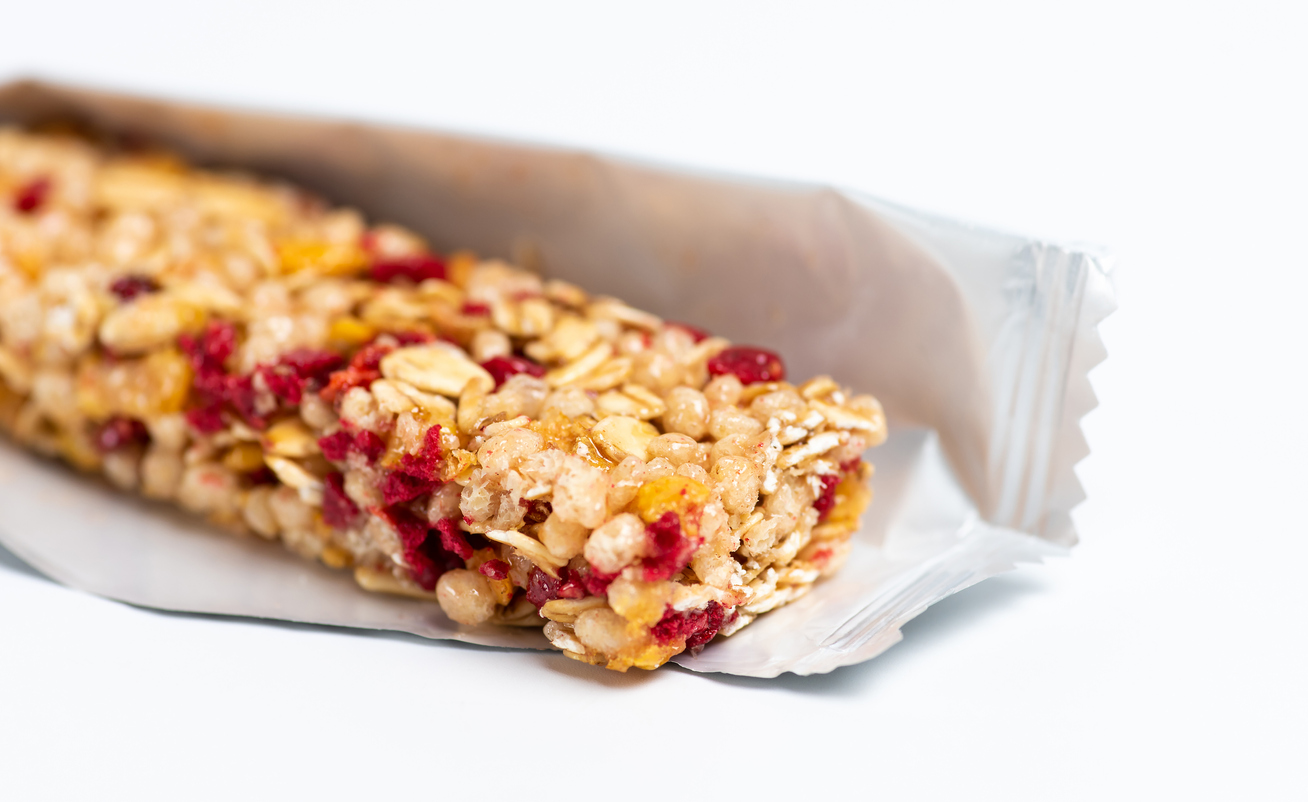 It Has How Many Carbs?!
If the meal replacement bar passes the protein test, you can move on to the carbs. Remember, this is meal replacement. We obviously shouldn't be eating a sugary dessert as our meal. Sometimes, the packaging will include the net carbs, but many times it won't. In this case, simply subtract the fiber from the carbs to find the total net carbs.
The highest protein bar with the lowest net carb possible is the goal.
Check Out the Fiber Content
Fiber helps with digestion, prevents constipation, and helps maintain a healthy weight. It also helps prevent heart disease and diabetes. Not only that, it can help lower chronic inflammation which is the root cause of many diseases.
Fiber is also responsible for helping us feel full longer, so it makes sense that we should have adequate fiber levels in a meal replacement bar. Look for bars that contain at least 3 grams of fiber.
Choose Meal Replacement Bars with Real Food Ingredients
To find the best possible meal replacement bar, you should have high protein, low net carbs, and ingredients that you can actually pronounce. Here are a few examples of ingredients to avoid:
Oils such as canola, vegetable, and corn are a few examples of cooking oils that promote chronic inflammation in the body.

Artificial food dyes

Artificial sweeteners

Sugar additives such as corn syrup, sucrose, dextrose, etc.
Whole, healthy food should always be the end goal. Life happens though and when you don't have time to meal prep, meal replacement bars can be a healthy substitute that will help you avoid fast food and sugary sweets.
Our skin says a lot about us. Perhaps one of the most apparent is our age. Sun exposure, nutrition, and other things can be shown through the look of our skin. Unfortunately, you might be consuming foods that age you, but we have some swap you can easily make to have youthful-looking skin!
The post What To Look For (And Avoid) In Healthy Meal Replacement Bars appeared first on Prime Women | An Online Magazine.
Back to Blog