Try Something New! Stand Up Paddle Boarding
Posted on March 16, 2018 by wlda
The heart and mind of an athlete never changes. When our legs don't move the way we want them to, we get creative and we improvise. That's exactly what my friend and long time soccer teammate did last summer when we decided to try something new.
The two of us were chatting and learned we'd both made the same impulse purchase of a stand up paddle board (SUPS), hoping to stay active but have less potential for injury. Although she's not quite in the senior sect at 49, Kimmie was trying to be proactive. At 52 and suffering from aches and pains of overuse, I was looking for a softer sport and the challenge of a task not yet mastered.
We are both athletic and like to be outdoors. Neither of us are afraid to try new things. We like to earn our rest and relaxation. We thought this would be a great way to combine everything. We could paddle all around, then have a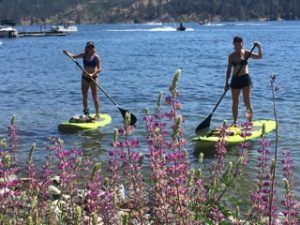 picnic lunch.
Physically, we are pretty small, weighing in around 115 and 5'2'' on a good day. Part of our challenge was figuring out how to transport our paddle boards in or on the car, then from the car to the lake. These boards are big! Fortunately, we found that two boards fit in both of our cars as long as one of us sat in the back seat. No problem!
When you try something new, each day brings valuable lessons. On trip number one, we learned that in California you actually do need a personal flotation device with you because no matter how cool you look on your board, you will get stopped and warned then ticketed if you don't have one. On trip two, I learned that no matter how easy and relaxing SUP boarding seems, it's not safe to go it alone. I discovered this after a boat flew by, causing a big wave which caused me to flip off my paddle board (and lose my sunglasses). On trip four, we learned a BIG lesson: SUP boarding is NOT fun without the paddles. We now have a checklist.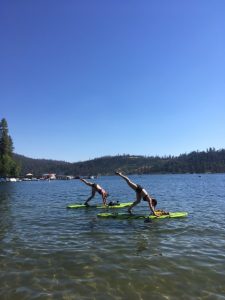 Along with the education acquired through trial and error, we have had a great time packing up our boards and lunches and heading to the lake. We've gone from nervously standing on our boards and copping the "freeze pose" when a boat passes nearby to sporting yoga poses on our boards.
Although we were a little concerned this new sport would not provide the challenge and exertion we crave, I found after our first voyage that to stand for a long period of time on a paddle board requires balance and centering of the body. To balance and paddle requires engaging your core and using your strength to stand and paddle. The great thing is – if you get tired, you can kneel or sit and paddle like you would a kayak, which makes SUP boarding something most anyone can do.
It's also a great way to meet new people. Every time we pull up to put our boards in the lake, we have people asking questions. They've asked to try the boards out. They've asked where we bought them. The funniest thing is the number of people trying not to ask how old we are. It's not our favorite question, but we also know we are lucky enough and have the guts to get out and do something new. In our minds, we are still the same confident girl athletes mastering a new sport and making it look good.
We've shared our newfound sport with others. All of the "others" are over 50. My friend Peggy is 60 and had no problems mastering the board. This summer we plan to coordinate a hiking/paddle boarding day. We are also ready to conquer the ocean. Maybe soon we'll be paddling to catch waves. We aren't giving up soccer—we are cross training now!
Why You Should Try Something New, Too
Psychologist Rich Walker of Winston-Salem State University says that people who engage in a variety of experiences are more likely to retain positive emotions and minimize negative ones than people who have fewer experiences.
5 benefits of trying something new
Trying something new helps you overcome fear. After all, it's the unknown that we're really afraid of. Once we know what we are facing, that nervousness is much more manageable.
The ability to seek out and try something new can make you more successful not only in your personal life, but professionally. It means you are open to new experiences.
When you try something new, it stimulates your brain and sparks your creativity as you learn and problem solve along the way.
You gain confidence and increased satisfaction when you step outside your comfort zone and find you can conquor your fears and uncertainties.
You learn to appreciate the things and people around you more by spending time with others or in new situations, making new friends, and just seeing the bigger picture. Not a bad result at all.
The post Try Something New! Stand Up Paddle Boarding appeared first on Prime Women | An Online Magazine.
Back to Blog