Over 50 and Still Kicking: Why I Joined an Adult Soccer League
Posted on August 08, 2017 by wlda
For most people, the top five things to do at age 50 probably do not include playing soccer, traveling to play soccer or planning to score a goal AND win. They are, however, on my list and on many other healthy senior soccer players' lists. As a former D1 college athlete and competitive soccer player, 50 was something to look forward to as I rounded 48. You see, that's really when the fun begins if you've been a life-long athlete – and why I kept playing in my adult soccer league.
50+ is fabulous in an adult soccer league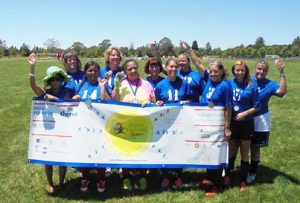 I joined an adult soccer league when I was 30. In my late 30s, people started to chastise me about playing. They'd say I was going to hurt myself or jeopardize my ability to walk when I got old, so I gave myself a cut-off age. I'd be happy to quit if I was still playing at 45. I figured that was when a rational adult should hang up their cleats…but that was before I met Margaret, age 66; Denise, age 53; Lucy, age 53; and a whole slew of women my age or older who were still kicking.
At around age 49, the calls and emails started, asking when I was turning 50. I was being recruited! In the senior soccer world that's the magic age. Teams can have a few "young ones" to round out their lineup. What a gift that was for entering into the twilight zone of aging!
Tournaments
Most people are unaware of senior competitions for almost every sport including soccer. In California alone, tournaments for an adult soccer league include the Sonoma Wine Country Games and Bay Area Senior Games, each of which offers a meet-and-greet event such as dinner, drinks and sometimes dancing.
There are competitive opportunities all over the United States and in other countries, too, just for decrepit and elderly… Oh, I mean for those of us who feel the older we get the better we are AND the better we are becoming.
A bracket for all ages!
There are age brackets within an adult soccer league, which makes crossing into the next decade or half decade a little easier – especially when you are going to be the "young one." It's refreshing to once again be considered the ringer on the team. The brackets include over 50, 55, 60 –  and one of my best soccer friends plays in an over 65 league. She is not only still kicking, but still scoring goals and enjoying soccer as much, or more, than ever.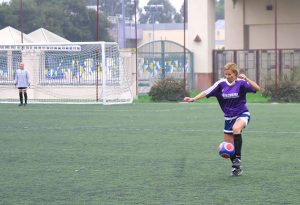 She inspires me, but she also hassles me when I get injured, or when I complain about being sore or tired. My other soccer teammate who is 53 and travels with me, makes me feel young when she talks about how we are going to rock the field together when we team up on plays. She doesn't know this, but she keeps me sharp because I know she's keeping track of how many goals we each score.
As to whether we are just happy to be out there or whether we go to win, we all recognize it's a win to be healthy and well enough to be out on the field, but it's still about bringing home the brass. When we get the opportunity to do both it really is a win-win.
Margaret's over 65 team plays to win, and most of the time they do. Every woman out there is enjoying the gold in their golden years. I'm happy I didn't hang up my cleats in my "youth," and look forward to the chance to check another box on my bucket list: the World Masters Games.
The post Over 50 and Still Kicking: Why I Joined an Adult Soccer League appeared first on Prime Women | An Online Magazine.
Back to Blog